This software builds perfect mosaic photo out of your own images in just five easy steps.
Everybody who loves taking photos and having their photo taken sometimes feels like doing something amusing and original with their existing photos. With digital cameras, we try to capture any event or moment that is significant in our lives. But when we are faced with selecting the photos to print in an album, we always have a hard time making the choice. Trips, vacations, time off, family, kids, weddings, anniversaries, relationships, college and more...there's so much that sometimes, you just want to throw it all together.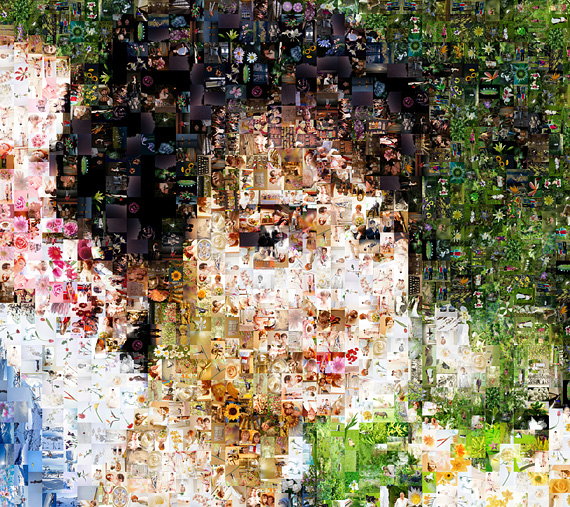 1000-pieces mosaic photo created using the program: Artensoft Photo Mosaic Wizard and base with flowers, wedding moments, travel diary and other. Download full size (extra large) mosaic photo here (8100x7200 pixels, 40Mb)
Artensoft Photo Mosaic Wizard can help you with exactly that! To create a mosaic photo, you need only a computer and a collection of photographs. A photo mosaic is an image made from multiple photos. The thing to remember about mosaic photos is that the more photos you load to make them, the more spectacular the result. Up close, you can pick out all of the photographs that make up the mosaic photo, but from afar, you see a single photo. A mosaic photo from numerous photographs is a great tool for design. Artensoft Mosaic Photo Wizard is made not only for home users, but professional designers too. The program lets you create eye-catching advertising posters, flyers and business cards, or decorate the interior of a home or office. You can make these mosaic photos yourself, without special skills. Just follow the program's step-by-step instructions. Want to try out all of the program's features? Download it for free!
Download Artensoft Photo Mosaic Wizard here
Artensoft Photo Mosaic Wizard is fully featured, usable, and affordable mosaic photo software, with a free evaluation version available for download.
Feel free to visit our gallery featuring dozens of cool photo mosaics.
Just click this link and enjoy the show.
| | | | |
| --- | --- | --- | --- |
| | | How to create mosaic photo: video demo | |
Watch the video and you will find that this is very easy to create a mosaic photo.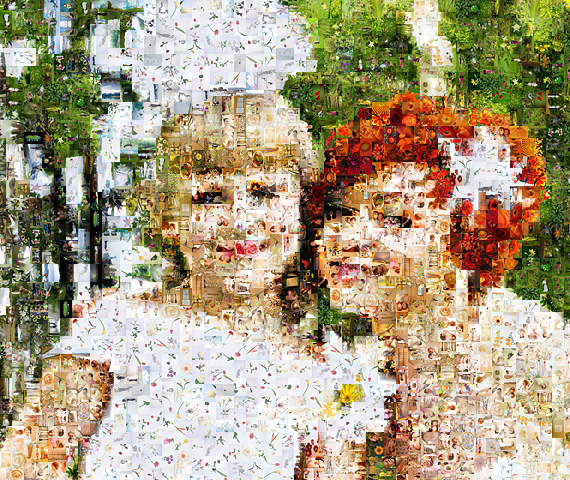 1300-pieces mosaic photo created using the program: Artensoft Photo Mosaic Wizard and base with flowers, wedding moments, travel diary and other. Download full size (extra large) mosaic photo here (8360x7040 pixels, 20Mb)