| | | |
| --- | --- | --- |
| | Try our AI powered service first! | |
Photo mosaic maker "Artensoft Photo Mosaic Wizard"
- Create Your Own Photomosaic!
Artensoft Photo Mosaic Wizard builds perfect photo mosaics out of your own images in just seconds. Have great fun with friends and family, produce perfect photo gifts, and make unique posters in five easy steps! Photo mosaic maker "Artensoft Photo Mosaic Wizard" is great for designing and printing photo wallpaper, producing exclusive collages, and building photo montages that look great from afar and perfect from up close.

Artensoft Photo Mosaic Wizard is fully featured, usable, and affordable photomosaic software, with a free evaluation version available for download.
Feel free to visit our gallery featuring dozens of cool photo mosaics.
Just click this link and enjoy the show.
| | | |
| --- | --- | --- |
| | (Size: 9.6 MB) | |
| | | | |
| --- | --- | --- | --- |
| | | Photomosaic with high-resolution support (64bit version) | |
A photo mosaic with a resolution of 25189*17000 (428 Megapixels) can be created using a video card with 1.7 Gb of memory. With a more powerful video card, you can make the photo mosaic even bigger in size. We can help you to embed a component to view the huge photoshoots on your site. Example below:
A photomosaic with a resolution 26414*19928 (526 Megapixels):
| | | | |
| --- | --- | --- | --- |
| | | Photo Mosaics in Five Easy Steps | |
Building a photomosaic could not be made easier. The steps to create your very own mosaic photo are:
1. Select your master picture (an image to be seen from afar);
2. Select the tiles (choosing one or more folders with pictures will do; the more you have, the better);
3. Click to build the mosaic! (Or choose your own settings);
4. Move, resize photomosaic preview and replace tiles to perfect your digital photo mosaic, or simply skip to;
5. Saving your photomosaic to the file.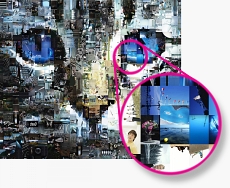 Photo mosaic maker builds true photo mosaics by carefully choosing, matching, and fitting each individual tile to form the master image. The photomosaic software does that without resorting to tricks such as blending cell images into a master image with color overlays. Instead, it solves a complex mathematical equation of fitting cell images the best possible way to produce stunning and very realistic mosaics.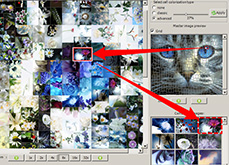 Not satisfied with a photo mosaic created by Artensoft Photo Mosaic Wizard automatically? You can move, resize photomosaic preview and replace individual tiles to perfect the mosaic photo.
| | | | |
| --- | --- | --- | --- |
| | | Unlimited Photographic Possibilities | |
Unleash your creativity with Artensoft Photo Mosaic Wizard! The possibilities provided by this little tool are nearly endless. From photo wallpaper to poster-size montages and photo mosaics, Artensoft Photo Mosaic Wizard will impress your friends and entertain your family members of all generations.
Photo mosaic maker "Artensoft Photo Mosaic Wizard" is fully stand-alone photomosaic software that does not need any third-party software to work. The tool will produce realistic mosaics without you having to have any designer or photo editing skills. You'll just need a Windows PC and a few photos to make the mosaic of.
| | | | |
| --- | --- | --- | --- |
| | | Free Download Artensoft Photo Mosaic Wizard | |
An evaluation version of Artensoft Photo Mosaic Wizard is available as a free download. Get your free trial copy!
| | | | |
| --- | --- | --- | --- |
| | | Testimonials about Artensoft Photo Mosaic Wizard | |
| | | |
| --- | --- | --- |
| | (Size: 9.6 MB) | |
| | | | |
| --- | --- | --- | --- |
| | | How to create photomosaic: video demo | |